The drive is 17 miles long of which 13 miles is a one-way loop, and typical times for the full trip are 2 to 4 hours. There is much to see along the Valley Drive, even if many of the views are of the same formations, just at different angles, as some of the narrower buttes look quite different from one side compared to the other. This part of Monument Valley is one of the most impressive large-scale landscapes anywhere in the Southwest, rivaling places like the Grand Canyon or Yosemite for the variety of scenes to photograph. The best views are the tall spires, thin buttes, and the contrasting smooth orange sand all around, since most of the park is empty desert, crossed only by a few dry washes and sandy tracks leading to Navajo settlements.​​​​​​​ 
The Valley Drive is open from 6 am - 8 pm (May - Sep) or 8 am - 5 pm (Oct - Apr).
The West and East Mitten Buttes (also known as the Mittens) are two buttes in the Monument Valley Navajo Tribal Park. When viewed from the south, the buttes appear to be two giant Mittens with their thumbs facing inwards.
Rain God Mesa marks the geological center of the park. Navajo medicine men pray and give thanks to the Rain God, who stored water for the people. On the south side, you can see dark painted streaks from the natural aquifer that seeps out at the base of the sandstone.​​​​​​​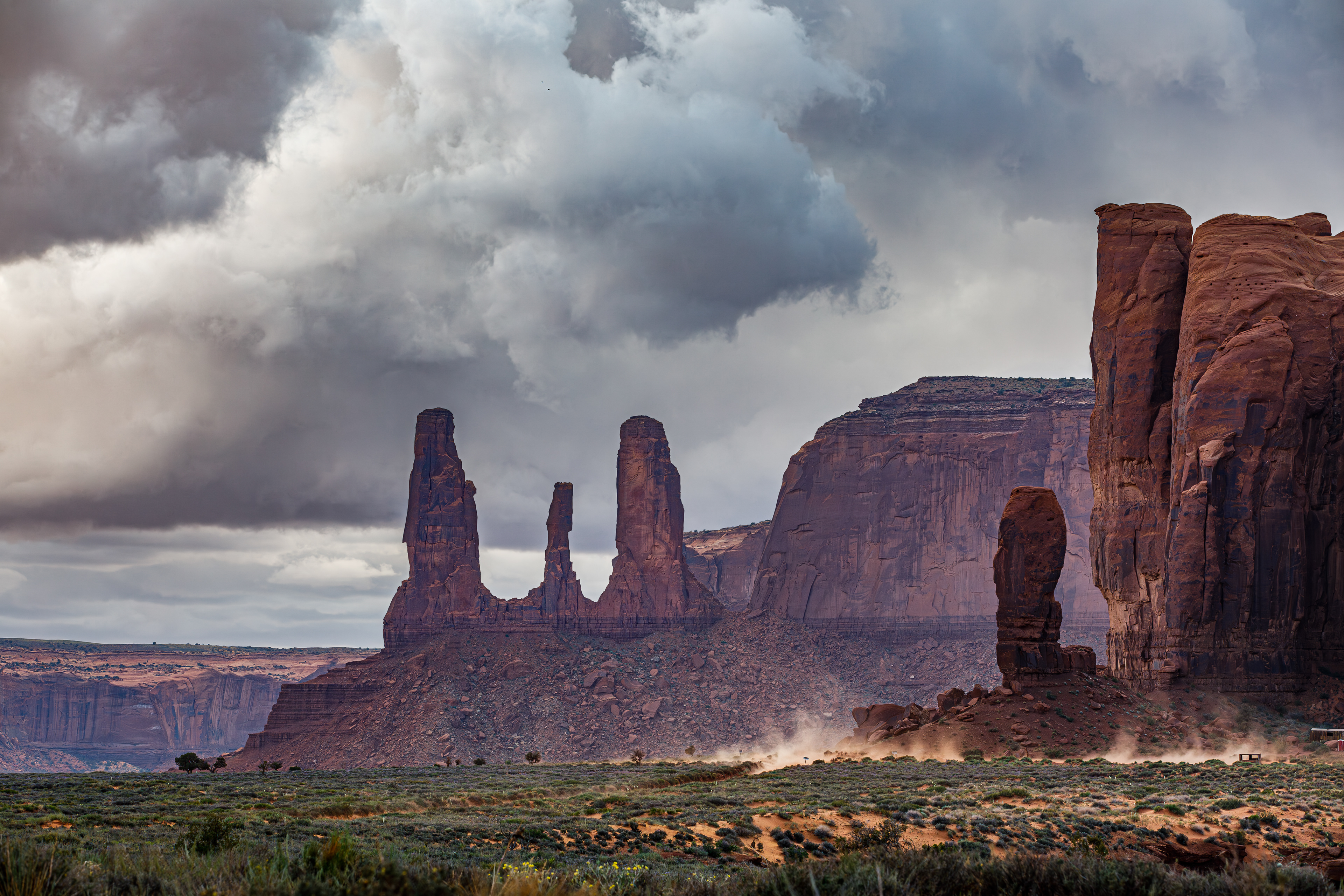 At the southern most part of the 17 mile drive, a little past Artist's point, this is what we were looking at. The wind and clouds were both showing their teeth. I didn't see the dust cloud when I took the picture. It was just lucky timing.